Why should I buy an Alpaca from a Breeder?
I want to talk about who you should buy Alpacas from.  We have been a breeder of Alpacas for 8 years now and have learned a lot about the care of Alpacas. We breed for health alpacas that we hope to live out a long breeding career.  It takes a lot of fun time to give them the type of love and care that every animal should have. The folks that have bought from Alpaca Rose Ranch get taken care of for as long as they are in the business. What happens like every other animal like dogs, cattle, horses, folks get into either raising them or getting them as pets.  Either way they should be taken care of like they were members of the family. A lot of folks get into raising alpacas because you could make a quick sale and make a lot of money.  Now that the economy has turn South it is a little harder.  Instead of selling an alpaca for 15,000 to 30,000 you have to sell a lot of them for 4000 to 6000, which is still a good profit. If takes time and good breeding decisions to have a quality herd to sell or even to produce great fiber from the Alpaca. There is a lot of folks that are giving away alpacas that they cannot afford any longer.  Those folks should have never got into the business.  They never had a good business plan for their farm on raising them and what profit they could make on selling them and selling the end product of their fiber. There is a difference in an alpaca breeder retiring and selling their herd and someone who just bought to make a fast buck and fails to sell them and then turns around and sells them for nothing. Most alpacas you can make 300 to 500 dollars a year off the end product, their fiber.    The worst thing a buyer can do is to buy these alpacas that have not been taken care of and expect to make money off them.  If you get something for free there is something wrong with the Alpaca.  If you cannot get ARI papers on them from the person you are buying them from don't buy them if you want to get into  the business.  If you want someone to mentor to you then buy them from a breeder that has a good name and look at his stock of alpacas. You will be able to tell if they have been taken care of just by looking at them. You can tell how a breeder takes care of them just by looking at how clean the farm is. There is a lot to learn and I do not want to see new folks get stuck with bad inventory that they will not be able to sell. So buy from a good breeder, there are tons of great breeders that will take care of you and your alpacas.  If you buy something for nothing don't expect that person to take care of you.
What about buying fiber Alpacas for Pets?
We have sold 20 fiber males and have had the people come back and buy females from us after they have had the males for awhile and have decided that this is something they can do.  We mentor to those buyers because we know if they like the alpacas and can take care of them they will be back. We still will look at the buyer and make sure they have a safe place for the Alpacas before we sell them anything.  We want to know that the buyer does have the means to handle any medical care and they are going to be able to support them before we sell them.  Horse eat a lot of hay and I have seen some skinny horses this year because of the cost of hay.  The folks just cannot afford to buy hay for them. They should have thought about that when they bought the horse. Alpacas are fun to raise,they keep the grass down for you and you can make a profit from a pet alpaca. You can buy quality alpacas from breeders that know what they are doing and they will help you to make a profit from them. Give us a call or e-mail us. Thanks Alpaca Rose Ranch 509-292-0446
http://alpacaroseranch.com
info@alpacaroseranch.com
2012 Show Alpacas
Time to take a look at your projected show alpacas for the upcoming 2012 show season.  I am hoping that breeders take a look at their alpacas to see who to enter and type of Show to put their alpacas in, Halter or a Fleece Show. I know that money is tight but try to get to a show.  Networking with other breeders is a very big part of selling alpacas.  Even if you are raising alpacas for their fleece there are shows for you to enter your fiber into.  I have hear that CABA is going to offer a money award for the top fleece of the show. If you are serious about raising alpacas and money is tight at this time try and entry a fleece show or a Spinning show. Fleece show is a good way to see how your farm stacks up against other farms.  I know their is a lot of fleece from last year stack somewhere in your barns.  I have seen some great looking fleece just in the Northwest in the farms that I visit.  We should all try to support your local show by showing our fleece.
Alpaca farms have been to long keeping that great looking fleece in the barn, I see and have talk to a lot of farms that in the last 2 years have turn that fiber into profit and it is helping to keep the overhead down on their farms. I would like all of you to take a look at specials on our herdsires  this year with breeding as low as 750.00.  We have 5 LCA Caden cria's due this year and hope you all stop by and take a look at what he has but on the ground. Also would like you to take a look at our Special Package deals on Alpacas,there are some great buys on our female alpacas that have give us some winning crias.  We will be at our first show in April.  If you are in Pasco stop by and take a look at our Alpacas and see how they did in the show ring. Hope  2012 is a great year for everyone.  Next month we will talk about breeding for the upcoming year. Jerry Harwood
Alpaca Rose Ranch
Alpacas were domesticated in the higher elevations of South America for their fleece. Alpacas are members of the camelid family, such as camels, llamas, vicunas and guanacos. Alpacas came to the U.S. in 1984 and people are raising them for their fleece as well as selling the offspring and many are showed in Alpaca Shows through out the U.S. Many people even those who do not have any former experience with handeling alpacas are raising them successfully. This is only some
alpaca information
here is more. There are two different types of Alpacas, one is the Suri and the other is huacaya. The differnces is in the fleece. On the suri it hangs in like pencil locks, and the huacaya fleece is more like sheep's fleece without the lanolin. Alpacas can live from 20 to 25 years. Females are generally bred when they weigh 95 pounds. Males are usually ready for breeding when they are about 2 years old. The females can be bread year round. Gestation is 11 1/2 months. They have one baby that weighs about 15 to 22 pounds.
Adult alpacas can get up to 200 pounds and they can yield about 5 to 9 pounds of fleece each year. The color range is 16 different ones from white, black beige or dark brown. Spinners love the fleece because it soft and warmer and even lighter weight than wool. People with alergies can often wear clothing made of alpaca. To find out more information about alpacas visit
http://alpacaroseranch.com
I have some great news for you breeders that are looking to breed for color or black.  We are going to have at our farm for a short time this spring or summer the 2011 Futurity Champion Black male. He not only took 1st but he was Color Champion also.  His name is Black Beard .  His sire is Captain Morgan. He also took 1st and was Color Champion at Alpacaplooza in 2011.  The rest of the season he had a fiber break. I was in Seattle on 17th of December and his 2nd fleece is coming in great. His luster and lock are to die for but his density is outstanding.  Pat and Debbie are offering breeding at 800.00 and only 10 breedings the first year.  We have sold 4 breeding so far there are 6 left. LCA Quechua fees will be 1000.00 and two for 1500.  SR5 Mahalo will be 750.00, LCA Coho will also be 750.00. We would like you to take a look at our new herd sire Alpaca Rose O'ryan he had a great show season last year and he is still in full fleece for the 2012 show season. His sire is LCA Quechua and his color is Medium Brown. His fees will be 750.00
Jerry & Lin Harwood
http://alpacaroseranch.com
We would like to thank the new breeders that bought alpacas from us this 2011 and let them know that we here to help them at any time.  We look forward in hearing from you in the upcoming 2012 season. We hope all the folks that did visit our farm and are still in the thinking process or setting up their farm with fencing and shelter for their new alpacas that we are here for them to answer questions.
We are planning a special event in March of 2012 that I hope all of you would be interested in attending. We are planning to have a training show. Lots of folks have expressed to us that they are scared of going into the show ring, so we are going to have an alpaca show ourselves. We have joined with a new breeder who has a huge barn with an outstanding lighting and an indoor show ring. We will have a trained judge or someone who is an expert on showing alpacas to teach on how to show your alpaca.  If you are interested please contact us prior to March 2012 at www.alpacaroseranch.com or call me at 509- 991-7093.
If your planning on showing your alpacas in the 2012 shows now is the time to start looking at that alpaca and making up your mind if you think that alpaca can compete. Things we judge our alpacas on are conformation, are the legs straight, bite good, does that alpaca have good density and lock but the biggest de terming factor that could override the above is does that alpaca have outstanding luster.
When we first got into the business of alpacas and showing them, we went to the show to see how our breeding program was stacking up against other breeders. We use the shows to help us determine what direction we wanted to go in our business. It is a great training tool to let you know how your breeding program is doing and what you have to do to improve it. If you don't want to show your alpaca because of cost there is another way of determining how your breeding program is doing and that is to show their fleece. I know that money is tight but it cost a lot less to show your fleece than to enter them into the halter show.  If the fiber market is our future then I believe that we need to get our show fleece to the show. It takes about 1/2 hour to prepare that fleece, so let really try to get those fleece to one of the shows this year.  You will find it a great tool to use in your breeding program to improve your herd. Time is running out to get that tax credit for 2011 for any purchase of farm equipment, and for that special alpaca that you have been looking at. Have a great Christmas and don't eat to much turkey. Jerry and Lin Alpaca Rose Ranch
http://www.alpacaroseranch.com/
A Perfect Time to Start an Alpaca Herd
Alpaca Rose Ranch is working hard every day to get ready for a hard winter.  Hoses have been rolled up and the heated water buckets are all pluged in and the new straw has arrived. Grass hay is stored. Gas in the snow blower.  I would much prefer not to see a lot of snow.   Word of hope, keep updating your web sites and continue to find different ways in reaching that new breeder or the person who is interested in learning about alpacas.  I believe there is a lot of buyers out there if we can teach them about how much profit they can make on the fiber. We have sold 1 alpaca this month and delivered 4 to a new breeder in Montana. We have had four farm visit with folks wanting to learn about the fiber. We need to show the folks how to make a profit on the fiber. If we can show them how to make a profit and cut down on cost the better chance we will have in growing or market.   If you are a new breeder just getting into the business you need to take the steps in learning about the fiber and how you can make a profit.  If you are a small breeder with little overhead this can be a profit center for you.  We attended a training course with a local breeder who is making 50.00 dollars a pound off the alpacas fleece he is raising.  On some products the profit can be has high as 80 dollars a pound. Lets say you have a herd of quality production fiber alpacas that give you 100 pounds of alpaca fiber you could make 8000.00 dollars a year off the fiber. I believe we all need to learn about the fiber, I know that I have a lot of reading to do to gain the knowledge.  I want to give out the right information.   Prices are  now down an this is a great time to start your herd or improve your herd with quality females or a herdsire that is going to improve your fleece weight.  Take a look at the package we have on this Newsletter. We have an Inca Daughter that has a female cria with her.  The cria sire is our award winning fleece champion LCA Quechua.  Also in this package is Isabella last year female cria that a color championship to her credit. The price on the package is 7000.00 dollars. Isabella has been re bred to LCA Quechua for a 2012 cria and the two daughters will also receive free breeding when they become of age. So you are getting 6 alpacas for that price. You can see Isabella at
www.alpacaroseranch
or stop out an take a look at them.   Thanks for taking the time to read and we would love to hear from you.   Jerry and Lin Alpaca Rose Ranch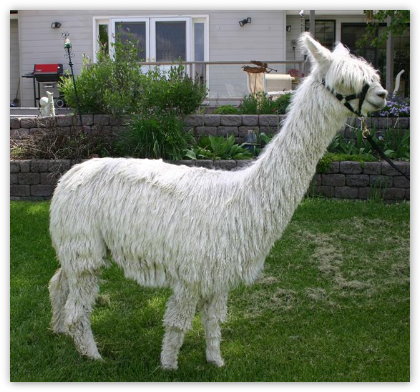 Alpaca Rose Ranch
http://alpacaroseranch.com
Would like to talk on how and what to look for when buying alpacas. When we first look at Alpacas we did not have a clue if it was a good one or a bad one. We got lucky and happen to buy 3 good ones with great bloodlines. The next farm that we went to try to sell us a package of alpacas for 75,000 and when I went home and got on the ARI site found that they had Huacaya in their background. You have to be able to trust the breeder you are doing business with. We show the ARI of each alpaca we sell and go over it with the buyer.
The first thing you should do if you have made up your mind on an alpaca to buy is to make sure you see the ARI of that alpaca to see the history of that alpaca. To make sure if you are buying a Suri that  there is no Huacaya in the back ground. I am not against buying and F1 if it is 2 to 3 generations back. If you are breeding to male that you don't know anything about check out his ARI to see if there is any Huacaya on ARI. 
If you are buying a female alpaca ask the breeder if the dam is still on the farm and if the sire is on the farm ask to see him. You should also check the ARI of the dam and the sire. I would have been very upset with the breeder I bought my alpacas from and found F1 or Huacaya in the back ground. The last thing you want to do is to breed a male to your female that has Huacaya grandpa unless that male has been proven not to have thrown any Huacaya offspring. I have spend many nights on the computer looking at ARI and the family tree of alpacas that we have bought over the first two years in the business. I tell every person who visit our farm to do their homework and get as much information on line as they can about alpacas and to always call us on any questions they have about alpacas. One of the many question we answer all the time is what about buying show quality alpacas over lets say an alpaca that as never been in the show ring. In most cases it depends on how much money you want to spend. I myself like buying alpacas that have a decent show record. I look at the show record more on a male than the female. You have to remember that some judges look at alpacas different at each show. Example is we have a female that was a color champion at one show and the next judge gave her a 5th place ribbon.  The bottom line in buying alpacas is that you should check the ARI of each alpaca that you are buying and if you have bought alpacas then you should join the ARI and search their web page and learn what you can about your alpaca and at the same time of joining ARI put your alpacas on their web site.
To learn more about alpacas and see our farm please visit http://alpacaroseranch.com
2011 Alpaca Show Season to Date
We have had a great show season.  At our 1st show we took 4 alpacas and came home with 4 blue and 1 Color Champion in the whites. We had to leave 3 of our best at home because they were to young but at our second show we took them.  The second show we bought home 3 blues and 2 red ribbons a third and a 5th and one reserve color championship in the light fawn.  Our fleece received best lock, best luster and judges choice. So now it is on to AOBA and that is where the rubber meets the road with a lot of big name farms that will be there.  Hope we can bring home some good results. Of the 5 young alpacas we took all of their sires is our own LCA Quechua.  He got a Get of Sire award at PNAA Showcase and his cria's took 2nd in the best of 3 class to Purca International.  We are so please had what Quechua has done so far not only for us but of the blue ribbons he has won for other farms in his first two years of production.  Take a look at
www.alpacaroseranch.com
. I understand that things are tough and a lot of breeders are not going to the show this year and it seems like it is a lot of Suri Breeders that are not going.  If you can not attend a halter show please try and send in your fleece to see how the judge score your fleece.  This way you can get an idea how your breeding program is coming along. I would like to take a few minutes of your time and discuss fleece with you.  If the alpaca breeders in America have made one mistake, it is not paying enough attention to the fleece market and the product you can make and sell. I have a partner in LCA Quechua that is a fleece expert and is teaching a group of us how to make 1500 dollars an  acre off our fleece.  I don't know to many co-ops that are returning that type of money.  Give you one example of what he is doing he is selling work socks for 35 dollars a pair. He started by selling a few to fire fighters and just the word of mouth has given him a big market. So lets get all that fleece out of the barn and start making money with it.  If you can make 1000 to 1500 an acre off fleece and show your customers it should make it easier to sell alpacas.